Our Company's Approach
[COMPANY]

Research, development and production
COMPANY
Research, development and production
Processing machines are required
to manufacture all parts in the
entire industry, such as mechanical
parts and semiconductor manufacturing
equipment parts. As a pioneer
in the production of plastic processing
machines and FPD-related processing machines, we will continuously challenge technological innovation.
Machine for plastic processing

We supply various plastic processing machines such as cutting and grinding to the world. Although there are a wide variety of types of plastics, we constantly evolve processing technologies and precisions tailored to each characteristic, based on our knowledge and know-how gained over many years of product manufacturing. In addition to the standard specifications, each model is also always customized according to the customer's request. Please consult us if you have any problems.
FPD-related processing machine

An important factor that determines the beauty of a flat panel display (FPD) represented by a LCD is the finishing of components such as light guide plates, diffusers, and polarizing films. Our products specialize in end finishing of these parts, and correspond to a wide range from square shapes such as TVs and smartphones to special and complex shapes such as in-vehicle displays.
In recent years, we have also delivered a large number of products to Asia and Europe. We have high reputation and trust from our customers.
〈Main models〉
-Grinder -Gate processing machine -NC multiple machine

Megaro Technica aims to be the best partner trusted by customers as a "true professional manufacturer" that consistently conducts research, development and production of FPD-related processing machines and plastic processing machines.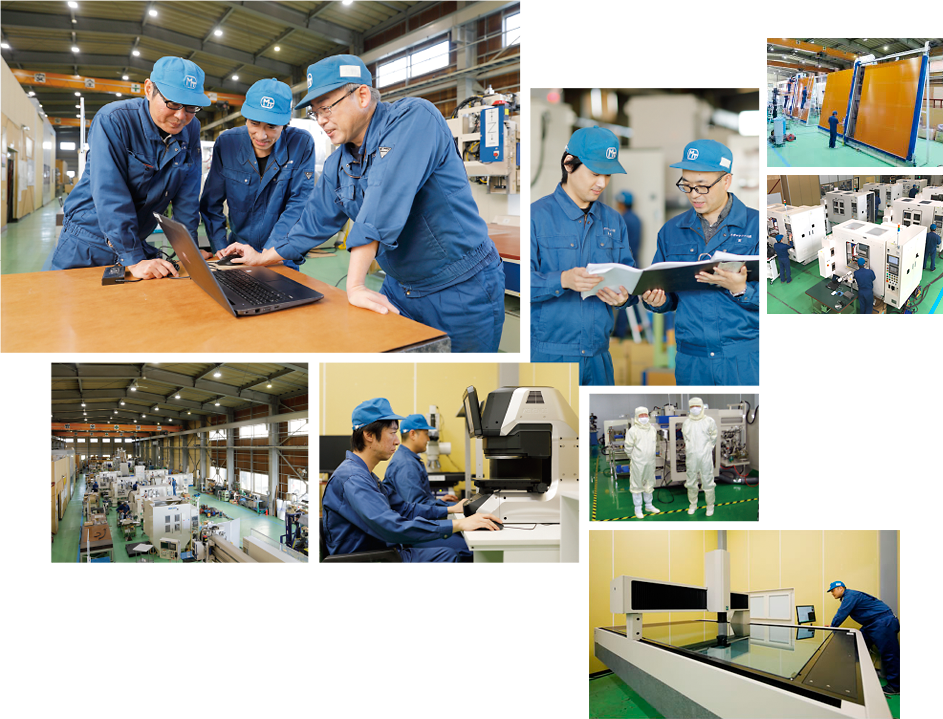 Our products are constantly changing to respond to the remarkable evolution of plastic materials. Megaro Technica uses analysis and simulation technology to predict possible problems from multiple angles, and produces machines with functions according to the times and environments.

High precision and stability are required for optical plastic parts production machines. Our company develops machines that can handle various types of processing making daily efforts to improve the technology. We are also making efforts to bridge the gap between the expected value and the actual value by repeating trial and measurement inspection using a large three-dimensional measuring device.

We carefully discuss specifications to meet customer requirements for accuracy, function, and operability. We make use of our many production achievements and the knowledge and skills we have cultivated so far to consistently design and produce, and our stable quality and price are sure to satisfy our customers.

After delivery, we provide after-care and support from immediate adjustment to specification change and overhaul to use our machines for a long time. Megaro Technica wants to be a company that can maintain a long-lasting relationship of trust with customers.