Product Introduction
[FPD-related Finishing Machines]

Grinders for Light Guide Plate (Gate Processing Machines for Molded Light Guide Plates) All Products

[FPD-related Finishing Machines]

Grinders for Light Guide Plate (Gate Processing Machines for Molded Light Guide Plates)
Gate processing machine
Product Name

Gate processing machine

Type

GCPB-420-S

Use

Gate removing and mirror finishing of molded products, mainly light guide plate
Based on the experience in the industry, the conventional model has been further upgraded. Functionality and operability have been dramatically improved, and a high cycle has been realized.
Product Features
■ Reduction of processing time
The feeding time is shortened by an AC servo motor, realizing a high cycle.
■ Free program setting
You can freely select speed changing and table back-and-forth movement at the specified position to obtain the optimal processing conditions. Side gate processing is also possible.
■ Operability is further improved
The operation screen can be switched between five languages of Japanese, English, Korean, Simplified Chinese and Traditional Chinese with one touch on the touch panel.
Various information such as cycle time, processing amount and maintenance information are displayed on the panel.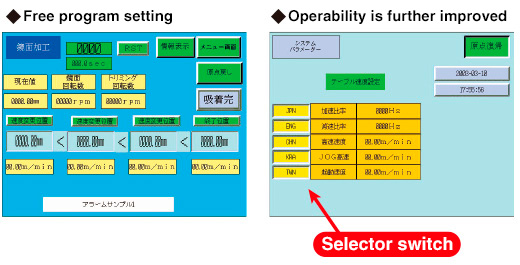 Inquiry/Document Request